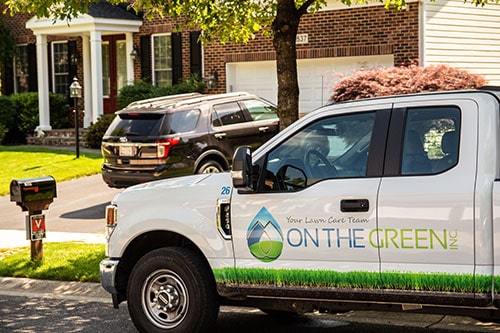 On The Green, Inc. was established in 1994 as a small lawn care business serving the local area. With a promising business model and passion for lawn care, On The Green,  Incorporated in 1997.
Over the years, our company has grown into a well-known brand with dedicated employees and a commitment to providing quality services to all its customers. It is also the best place to work in Maryland.
Today, with 25 years of experience, On The Green, Inc. uses its extensive industry knowledge to serve the community proudly. We work with our partners and the University of Maryland to understand the latest scientific research in the field and come up with even more top-level prevention & intervention solutions in lawn care and landscaping.
Meet Cooper the Core
Our mascot Cooper the Core was created from an aeration core, the core aeration process is one of the healthiest things you can do for your yard!
At On the Green, Inc., high-quality services and our customers' satisfaction are also the core of our business. We genuinely care about you and our community.
Our Philosophy
At On The Green, Inc., we understand that each lawn is unique. We don't go through the motions to finish your yard and walk away. We develop a personal relationship with you and make a custom program tailored to your lawn's needs. We then inspect your property at each subsequent visit to make sure that it is responding positively to the treatment.
Our Guarantee
A Certified Pesticide and Professional Fertilizer Applicator by the Maryland Department of Agriculture, we offer industry-unique landscape management strategies to conserve water, protect the environment, and achieve the most elegant lawn and landscaping possible.
We offer an industry-leading guarantee because we also share with you the same high expectations for your lawn.
All of our services include top-rated products and yield professional results.
Our goal is your 100% satisfaction, or we will come back and make it perfect.
Community Sponsorships
On The Green, Inc. proudly sponsors Youth Athletics including GORC and PAL, Wounded Warriors, St. Jude Children's Hospital, ASPCA and Project Evergreen.
Find the information you need?
Then fill out our
Free Estimate form
and one of our experts will contact you to discuss your lawn care needs. Still have questions? Feel free to
Contact Us
. We are always happy to answer any concerns you may have. For Fastest Service, give On The Green, Inc. a call at
410-695-0444
.