On The Green Lawn Care
You're Unique… and your lawn care should be too
Here at On The Green, Inc., we know that each lawn is unique, and each needs special treatment. Over the years, we developed an integrated lawn program that covers all your property's needs including care and protection, no matter the season.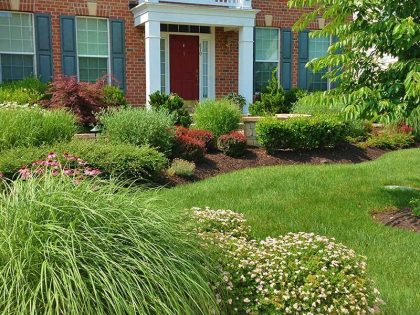 Our Mission
We strive every day to offer each customer the highest standards of professionalism, quality, and customer care. Our commitment to our projects, high-quality services, and work ethics are what make On The Green, Inc., the informed consumer's contractor of choice in Maryland.
Our Specialty
The experts at On The Green, Inc. specialized in integrated services, ranging from irrigation to fertilization, insect and disease protection, and organic nutrition, among others, to maximize the health, safety, and thriving capabilities of your lawn and landscape.
How We Work
For us, every project is essential, no matter how big or small. We work hard to use our knowledge and expertise to produce an outstanding result every time.
Everything starts with a visit and a thorough discussion about what you want. Our experts make their recommendations, and we develop a plan for your property.  Then we roll up our sleeves and get to  work until you are 100% happy.
Why Should You Work With Us
You can always learn more about us, but here are the reasons why you should contact us for a free estimate:
We are Certified Pesticide and Professional Fertilizer Applicators by the Maryland Department of Agriculture.
Every service we perform includes industry top-rated products, including Poly-coated slow-release fertilizers, organic nutrients, and Certified Seed Cultivars.
We offer a friendly professional service with guaranteed results.
We are industry experts with years of experience in providing integrated lawn and landscape services, from lawn treatments to irrigation, tree and shrub care, and pest control.
As a local community business, our success depends on great results and your satisfaction. You will notice the attention to detail and professionalism in every service we offer.
We put safety first- safety for you, our staff and the environment is first in every service we perform and every product we use.
---
Service Area
We are proud to serve Anne Arundel County, East Prince George County and Southern Howard counties.
---
Certifications, Licenses, & Memberships
Maryland Home Improvement Commission License
Maryland Department of Agriculture Pesticide Licenses
Maryland Department of Agriculture Certified Fertilizer Applicator
Member Maryland Turf Council
Member National Landscape Association of Landscape Professionals
Member Nation Federation of Independent Business
Member of Irrigation Association