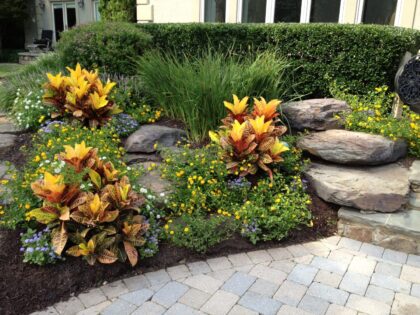 The lawn is the centerpiece of your home's landscape. However, award-winning landscapes also need to have some other elements to tie everything together. If your trees and shrubs are suffering under the endless heat of late summer, it's time to do something about that. One of our most valuable services at On The Green Lawn Care is our tree and shrub care program. So, how do some of the industry's leading professionals handle this task? Let's find out!
Application of Specially-Formulated Treatment Sprays
Spraying the trees and shrubs is the most common method of encouraging healthier growth. This enhancement is why foliar spray applications are so effective. The fertilization treatments are distributed on the targeted foliage. Otherwise, they would be more vulnerable to insect damage and disease infections. Foliar sprays are particularly useful for eliminating pests such as aphids, mites, and scale insects. Moreover, this approach is often used as a preemptive first line of defense to prevent insects and diseases from ruining your home's beautiful landscape.
Deep Root Injections That Supplement Spraying
Another technique that lawn care professionals often use is called Deep-Root Injection. These injections are meant to complement the spraying method described above. The systemic injections boost the efficacy of the sprays because they are absorbed more quickly by the associated plant's roots. This boost means that the trees and shrubs can better resist insects and diseases.
Usage of Systemic Bark Spray Products
Trunk sprays, also known as systemic bark sprays, are another critical addition to the arsenal of fertilization and lawn care solutions that professional programs hinge on. This product coats the tree bark at chest height. After that, the tree does the rest. If you've been worried about the proliferation of the Crape Myrtle Scale, trunk sprays can help with control. Another reason why these products are so beneficial is that they protect trees against borer insects. These bugs leave their eggs behind on trees. Once they hatch, the larvae have a ready source of food to nourish them as they grow. Tree bark serves as a layer of "skin," and underneath, there is precious tissue that is also a prime delicacy for voracious insect hatchlings.
Deep Root Liquid Fertilizer
This treatment involves the injection of custom organic fertilizers into the ground under the larger shrubs and trees. Nutrients are shot directly into the root zone. We use a special blend of soluble fertilizers formulated to address numerous aspects of soil fertility. It contains only natural fertilizer ingredients to provide a slow-releasing source of Nitrogen, Phosphorus, and Potassium, to immediately increase the organic content of the soil, and to improve microbial activity. In addition, the product contains six species of beneficial rhizosphere bacteria to provide a sustainable fertilizing effect.
On The Green Lawn Care is Here for You!
On The Green, Inc. was established back in 1994. We started as a small business that served the local area. In the decades since, we've expanded tremendously. Incorporated in 1997, our brand has become renowned throughout the state of Maryland. Do you adore social media? Email us at [email protected], call us at 410-695-0444, and find us at our street address: 777 Annapolis Road, Gambrills, Maryland 21054. Come and grow with us on Facebook and Google!