Pest Control in Davidsonville MD
People worry about way too many things these days, and insect-borne diseases are stress factors nobody needs on top of everything. Unfortunately, many homeowners have to deal with mosquitoes, fleas, ants, and ticks, parasitic insects that carry numerous viruses and diseases. Perhaps the most known is Lyme disease, a life-threatening condition caused by ticks. If fleas bother your pets months in a row and mosquitoes annoy you for the entire summer, ants are almost invisible but equally dangerous. Besides devastating crops, they can infiltrate your home and cause massive destruction. If you have had it with fearing such insects, it is time to call our pro pest control company in Davidsonville, MD.
The Mission of Our Exterminator in Davidsonville, MD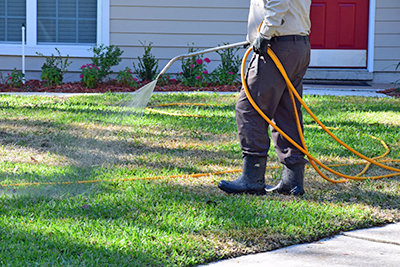 Our experts in pest control in Davidsonville, MD, aim to exterminate the existing insects and their larvae while treating the pests' breeding grounds as well. Upon the initial assessment, our mosquito, flea, ant & tick control experts will evaluate playgrounds, ponds, irrigation systems, water-centric landscape elements, shade areas, lawn, vegetation, outdoor structures, and more. Subject to what they find, they will implement a steps-based program (six or eight steps, depending on the insects they need to repel). Our interventions have to primary goals:
The elimination of adult mosquitoes, fleas, ants, and ticks together with their larvae;
The prevention of new incoming insects for 3-4 weeks since the last application;
An insect barrier is applied to keep away parasitic pests and other insects from landscape flowerbeds, lawn, wooded areas, shrubbery, etc.
Why Should You Choose Our Program of Pest Control in Davidsonville, MD?
If you need pest control in Davidsonville, MD, all you have to do is contact our team by phone or email and ask for a free estimate. Our mosquito, flea, ant & tick control specialists will make sure you receive outstanding services that will repel and prevent parasitic insects' thriving on your property. Here is why you should pick our services!
We assure you that our flea, ant, and tick control service will remove ground-based disease-carrying pests directly from their breeding grounds. Moreover, we also guarantee that each application repels new incoming insects for four weeks. When it comes to mosquito control, we ensure that each new application repels incoming insects for three weeks.
Our experts in pest control in Davidsonville, MD, work with non-toxic and eco-friendly materials and employ the latest technologies to ensure you enjoy your property in peace, without fearing disease-carrying pests that can threaten your wellbeing or health!