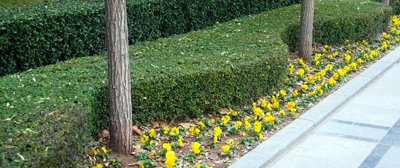 Learn about Tree Injections from Our Experts for Lawn Treatments in Crofton MD
As you look around your property and admire your landscape, you might notice that some trees do not grow as well as others. Some might show signs of nutrient depletion, diseases, pest activity, and so on. Since trees lie dormant during the cold season and the ground is too cold to work on, you have little options to intervene to restore your trees to health. Among such options are tree injections, a surefire way to fend off pests and diseases. Our experts in Lawn Treatments in Crofton MD, are here today to explain to you a few things about how tree injections work.
What Are Tree Injections?
Such treatments consist of drilling a small hole at the tree base and inserting a syringe containing a blend of chemicals to treat the tree from the inside. Most companies for Lawn Treatments in Crofton MD, use the two main types of tree injections:
micro shots, containing a small volume of chemicals, used to treat a certain or a limited tree area and
macro shots, with a more considerable quantity of chemicals, for treating larger portions of the tree or the tree in its entirety.
Commercial-grade injections serve different goals. Professional arborists performing lawn treatments in Crofton MD, use the right substances and quantities for each tree problem.
Why Do Most Homeowners Choose Tree Injections?
Using professional tree injections come with plenty of benefits for the trees, but for you as well. Let's see what our pros in Lawn Treatments in Crofton MD, have to say about this:
Since there is no use of chemicals or sprays used on or near the trees, you can have pets and children around the treated vegetation in full safety;
You do not risk external treatments leak into the soil and affect the surrounding vegetation, turf grasses, ornamentals, etc.;
You can choose from numerous treatment options, as tree injections come in many types with different purposes; you can opt from fertilization ones, injections against pests, diseases, fungi, for tree deflowering, and so on;
It is significantly cheaper to ask for a tree injection service than for tree removal in case you have to get rid of a dead or diseased tree from your property;
If you have a team performing the treatment, the tree does not risk developing diseases at the injection site.
How to Get Tree Injections for Your Landscape?
Call our lawn treatments company in Crofton MD, for an evaluation. Our experts will decide whether your trees need fertilization, pest control, disease control, or other protective measures to give them a health boost for spring!