Our Year-Long Lawn Care & Lawn Treatments in Bowie MD Meet All Your Needs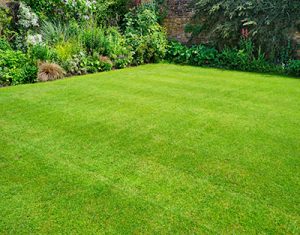 If you hear that all lawns are the same, and they do not need tailored interventions, ask for a second opinion. While many homeowners take pleasure in mowing their lawns, all know that yards thriving year after year need professional lawn treatments. Our Lawn Care & Lawn Treatments in Bowie, MD, are unique to each property we treat. We personalize our interventions depending on the evaluations we perform. You can expect us to adjust our multi-stage lawn care programs to the specific requirements, strengths, and vulnerabilities of your lawn.
We Believe in Innovation of Lawn Care & Lawn Treatments in Bowie MD
Here at On The Green, Inc., we believe in innovation and constant development. For this reason, we work closely with our partners (the University of Maryland included) to implement the most cost-efficient solutions in lawn and landscape interventions. As certified experts in interdisciplinary fields, we offer an industry-leading guarantee whether you choose our multi-season green lawn care program in Bowie, MD, or one of our many services.
On The Green, Inc. in Bowie, Maryland offers lawn treatments, fertilization, weed control, tree, and shrub care, core aeration, seeding, perimeter pest control, mosquito, flea, ant, tick, mole & rodent control and much, much more…
---
Find the information you need? Then fill out our Free Estimate form and one of our experts will contact you to discuss your lawn care needs. Still have questions? Feel free to Contact Us. We are always happy to answer any concerns you may have. For Fastest Service, give On The Green, Inc. a call at 410-695-0444