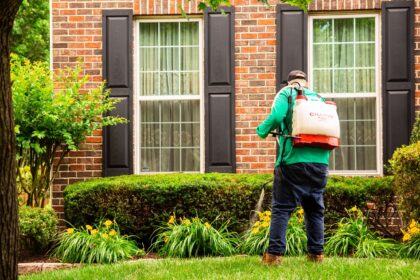 Crabgrass is one of those pesky weeds that germinates in the spring and will begin to grow with warm weather conditions. This makes it a massive headache for homeowners who want green and lush lawns. However, by knowing how crabgrass grows and how to prevent it from invading your yard, you can successfully get rid of this weed by using the proper tools. Pre-emergent weed controls, often called Crabgrass preventers, are applied to prevent crabgrass and other grassy weeds in turf. Keep reading to learn more about treating crabgrass with pre-emergent weed controls.
What is Crabgrass?
Crabgrass is a common weed that thrives in the heat of summer. It can grow in bare spots on your lawn as long as they have access to water and sunlight. This is an annual weed, meaning that it spreads by seed instead of spreading through roots. Around the end of the summer, the crabgrass will scatter its seeds to other areas around your grass, which is why it is essential to take care of crabgrass as soon as possible.
How Pre-Emergent Weed Controls Work
A common way to get rid of crabgrass is pre-emergent weed control. The time for applying varies because the soil temperature has to be just right before using a pre-emergent. Pre-emergents work by stopping the crabgrass before it emerges from the soil. For pre-emergent weed control to be effective, it must be applied before the seed germinates. Pre-emergents do not kill the plants; they only stop them from growing for some time.
When to Use Pre-Emergent Weed Controls
If you want to control crabgrass, it is best to be proactive and start treating your lawn early in the season. Apply pre-emergent herbicides around mid-March to get ahead of early spring and summer weeds. During or after the second mowing, use a crabgrass preventer control solution to stop the weed from growing and spreading further on your lawn.
Early Fertilization
If you want to fertilize your garden, it is essential to use a time-release fertilizer to control the growth of crabgrass and other weeds. Fertilization ensures that your lawn has the nutrients it needs to fight off crabgrass. One way to make sure your grass is strong is with regular fertilization. If your grass lacks nutrients, it will be weak and easily invaded by unwanted weeds.
If you're tired of removing crabgrass yourself, call On The Green, Inc today! We follow a strict treatment schedule throughout the year that prevents weeds and then follow up with guaranteed spot treatment of any existing weeds. Reach out today to learn more.
On The Green Lawn Care is Here for You!
On The Green, Inc. was established back in 1994. We started as a small business that served the local area. In the decades since, we've expanded tremendously. Incorporated in 1997, our brand has become renowned throughout the state of Maryland. Do you adore social media? Email us at [email protected], call us at 410-695-0444, and find us at our street address: 777 Annapolis Road, Gambrills, Maryland 21054. Come and grow with us on Facebook and Google!