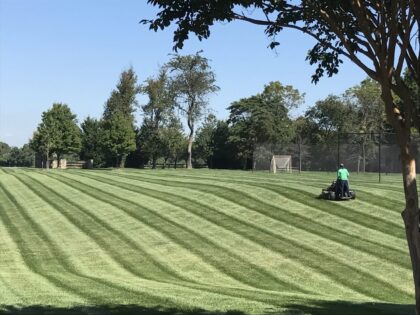 How you mow the lawn matters. One of the easiest ways to keep your lawn looking good is to mow properly. Many factors determine a great mow job and seeing the results will make the extra effort worthwhile. Several points can answer this question for you. Let's look at some of them!
Start Off With Sharp Blades
Sharp mower blades allow for a clean and even cut. A cleaner cut means the grass will heal sooner and reduce the moisture loss from mowing. Think of mowing as a type of pruning. When you're pruning a tree limb, you want to use a sharp saw to cleanly cut the branch so it can properly heal at the cut. Ripping a branch versus cutting will result in extensive damage to the tree. An open wound will allow for insects or diseases to infect the wound and result in additional plant stress. Turfgrass is the same. Thus, sharper blades provide a clean cut that heals quickly and reduces stress to the plant and reduces the potential of infection.
Use The Right Equipment For The Right Job
Heavy equipment has no place on your lawn, right? Well, some homeowners have really big yards, and using large mowers or tractors saves time getting the job done fast. As convenience sometimes comes at a cost, this also applies to mowing your lawn. Larger equipment can stress the lawn making the lawn struggle especially during periods of high temperatures or drought. Using small equipment has its advantages and will go a long way to preserve the health of your lawn.
Directional Mowing Has It Perks
Most lawn owners love that "ballpark stripe" look. This aesthetic is accomplished via the directional patterns placed by the mower. Lighter stripes are formed when the mower is moving away from a viewing position and darker lines form when moving towards that same viewing point. The appearance of darker lines happens because the blades are pushed towards you creating a shadowed appearance or darker stripes. Mowing the lawn in alternate directions can make the lawn look good and it helps it stay healthy. Using new patterns with each mowing can limit tire compaction or stress over the same lines.
Too Short Is Bad
When considering how to keep the lawn strong and healthier it's better to mow high. Tall Fescue lawns will balance the root system depth with the top growth. The higher you mow, the deeper the root will develop to support the height. Deeper roots have a vast number of advantages such as reaching moisture deep in the soil, access to more nutrients, and better recovery from stress. Higher grass also has many benefits such as protecting the crown of the grass from direct sunlight, more energy from increased photosynthesis from more plant tissue, and increased competition with lower-growing weeds.
On The Green Lawn Care is Here for You!
On The Green, Inc. was established back in 1994. We started as a small business that served the local area. In the decades since, we've expanded tremendously. Incorporated in 1997, our brand has become renowned throughout the state of Maryland. Do you adore social media? Email us at [email protected], call us at 410-695-0444, and find us at our street address: 777 Annapolis Road, Gambrills, Maryland 21054. Come and grow with us on Facebook and Google!